October 2014 Newsletter
<![if !vml]>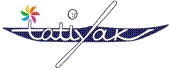 <![endif]>
Learning is not a race for information, it's a walk of discovery (anknown)
<![if !vml]><![endif]>

What's on


September has gone out in a rush, with relatively few sunny days.
Fortunately, at least on the Lago Maggiore, the sun obliged for the weekend… and four days paddling around

Palmaria Island and Cinque Terre

were perfectly amazing and relaxing!
To compensate, October promises to be awash with exciting fun events!

I have been invited to the ninth edition of the "Jornadas Menorca en kayak 2014" to hold a BCU 3-star course as well as to deliver a talk called "Paddling the Mediterranean", in an evening dedicated to kayaking at the Mahon auditorium. I'm so happy to be returning to Minorca, after paddling there in winter with Mauro and as a first-time instructor at the 2011 Jornadas. Of course I can't wait to meet up once again with all the friends I've made!

I won't be able to hang around much on this most beautiful Balearic island as there loads of BCU 3-star courses planned this autumn:
3 - 5 October, Alghero (Sardinia) (fully booked);
17 - 19 October at Vietri sul Mare (Salerno) (one place still available);
1 - 3 November in Cagliari (Sardinia) (two places available);
14 - 16 November, once again in Cagliari (fully booked).

Furthermore, from the 24 to the 27, a second session (followed by final assessments) for the FICK (Federazione Italiana Canoa Kayak) level 2 sea kayak instructor will be held at the Lega Navale Arenella in Palermo.
It will be another meeting for new skills and improvement...

Finally, I have been involved, for some time now, in the training to become a BCU Level 3 Coach. The sessions have been progressing quite well, with a close-knit group of paddlers who are motivated to carry out the most demanding of exercises. The scratch marks on arms and legs subsequent to assisted rescues are a reminder of how much still remains to be learnt…
Kayaking snippets
Balancing exercises are always fun and instructional. The so-called
"fun & balance" has become an integral part of our courses and is essential to
gain confidence with one's boat, introducing gradual variations in difficulty:
seated in the cockpit with both legs out, even on the same side; seated on the foredeck and sliding forward until one embraces the bow of the kayak; astride the afterdeck, with both legs in the water, even with both on the same side and then turning round to face the stern; sitting down on the afterdeck with both legs in the cockpit, then standing up to paddle ahead and astern…
always with a smile of course!

<![if !vml]><![endif]>
<![if !vml]><![endif]>

Call of the Inuit
Another tale of kayaking, ice, bears, climbing and Greenland.

Matteo Della Bordella, Silvan Schupbach and Christian Ledergerber have completed a unique expedition that included paddling and climbing. They started off from the village of Ittoqotoormiit, situated on Greenland's east coast, paddled for more than 200 kilometers and once they made base camp, climbed up the granite vertical face of the Shark's Tooth.
They will talk about their adventures during an evening organized by Sullacqua, whose president, Emanuele Rodari, actively supported them from inception with long practice sessions on Lake Lugano…

It will be most interesting to hear what they have to say about Scorebysund!
Over the horizon
Sara Outen and Justine Curgenven have finally made it!
In a 101-day voyage they paddled the entire Aleutian archipelago, finishing in Homer on the Alaskan peninsula on 22 August. They covered a distance of 1350 nautical miles, about 2.500 kilometers, experiencing both land and sea after being holed up for 37 days due to bad weather. They didn't let this get them down and made use of the opportunity presented to explore the islands' interior, capturing spectacular images of waterfalls, brown bears and other wildlife. Above all it gave them the opportunity to meet up with the local people,
who hosted and fed them… an exceptional adventure!

<![if !vml]><![endif]>
Thanks to Albert Gambina, we finally have a Newsletter written in English.
home

www.tatiyak.it - tatiyak.blogspot.com - tatiyak@tatianacappucci.it
Tatiyak a.s.d. - Via Giovanni Verga 53 - 20025 Legnano (MI) - C.F. e P.I. 06558570963 - © 2014 MF
---