November 2014 Newsletter
<![if !vml]>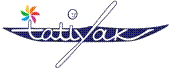 <![endif]>
Free man, you will always cherish the sea! (Charles Baudelaire)
<![if !vml]><![endif]>

What's on


October has been one of the busiest months of the year, replete with events that required quite a bit of travel around Italy: after holding a

BCU 3-star course in Alghero

, I was invited to

Menorca

to give a presentation entitled "Paddling the Mediterranean" as part of the "

IX Jornadas Menorca En Kayak

" event. A BCU 3-star course was held here too and then repeated at

Vietri sul Mare

at the behest of local club Ondalunga Kayak Salerno.


Their warm welcome was unforgettable!

The last week in October saw us in Palermo busy with part two of the course (followed by final assessments), for the FICK (Federazione Italiana Canoa Kayak) level 2 sea kayak instructor certificate.
We are more than pleased to confirm the technical and practical skills achieved by the eight new national instructors. A very well done to all!

We've got more 3-star courses planned in November, both taking place in Cagliari (Sardinia): on the 1st, 2nd and 3rd co-ordinated by Alfio Paderi and a second one organised by Luca Basciu on the 14, 15 and 16 November.
I'm really very happy to come back to this marvellous island!

On the weekend spanning the 8 and 9 November the assessment by
Ashley St. John-Claire for the BCU level 2 coach certificate will be held. Two days of theory and practical demonstration in both kayak and open canoe are planned; the three candidates have to show that they can impart their knowledge to beginners. If you're interested in getting free lessons
by BCU qualified coaches, don't hesitate to contact me,
we're in search of mock students!
Kayaking snippets
Sharing experiences and lessons learnt is something that motivates many of us. Even when we teach something new it's a good idea to get feedback from what has been learnt on the water as well as other sources prior to giving one's opinion on the best way to improvement. One of the most effective ways of sharing is an effective exchange: of opinions, knowledge, ability, equipment, techniques… Sharing is easier when the members of group form a circle. When we're all at the same eye level, united by a common interest and curious to learn and listen without barriers, then
an environment of mutual respect and knowledge is created, thereby ensuring that both as an individual and a group progress continues.

<![if !vml]><![endif]>
<![if !vml]><![endif]>

Call of the Inuit
One of the riches bequeathed to us by the people of the Arctic is the rolling maneuver, allowing one to return to the upright position without wet-exiting the kayak. In order to improve and refine the technique, regular practice is necessary. Above all, mastering the roll requires that each

phase is internalised.
In November we will be resuming rolling courses at the Legnano Municipal swimming pool, in conjunction with local Canoa Club Milano.
Contact us if you're interested in joining for one-to-one instruction. Sessions are held every Thursday between 9:30 and 10:30 pm,
continuing every week until late spring.
There's time for everyone to have a try!
Over the horizon
The last time we mentioned Georges Alexandre was in our December 2013 newsletter. He's a 46-year old French-Canadian paddler who started his epic voyage in September 2012, crossing the Mediterranean Sea from Tunisia to Europe via Lampedusa. His objective was to arrive in Brussels and deliver a petition -to regularise the waves of migration in a more humane way- to the European Parliament. "Kayak pour le droit a la vie" has been concluded with Alex arriving at his destination on 29 September 2014
after paddling for more than 4000 km traversing a sea that has come up with lots of surprises… but his story has ended with a safe docking!

<![if !vml]><![endif]>
Thanks to Albert Gambina, we finally have a Newsletter written in English.
www.tatiyak.it - tatiyak.blogspot.com - tatiyak@tatianacappucci.it
Tatiyak a.s.d. - Via Giovanni Verga 53 - 20025 Legnano (MI) - C.F. e P.I. 06558570963 - © 2014 MF
---