May 2014 Newsletter
<![if !vml]>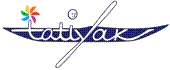 <![endif]>
<![if !vml]>

<![endif]>
Voyager


After a few years in the making and thanks to the collaboration with Italian CS Canoe,
the Voyager is finally afloat. It is a new, mid-range sea-kayak - the concept and production are all-Italian. Drawing on his 25 year experience and 20,000 paddling miles, Mauro Ferro

has included all the features relevant in a kayak suitable for open-sea navigation.

Prior to starting full scale production, a prototype was made and rigorously tested

both on lake and open sea. The results were very encouraging and confirmed

the validity of the entire concept. We're all set to launch the new kayak Voyager!

<![if !vml]><![endif]>
<![if !vml]><![endif]>

Call of the Inuit

The lines of this craft clearly hark back to a Greenland kayak pedigree and Mauro referenced the publication "Kayaks of Greenland" by Harvey Golden.

His inspiration was the dozen or so craft, from more than a hundred different types, reproduced in scale in this well-known book. The kayak has a highly distinct keel line, hardly any rocker at the bow and a few centimeters at the stern. The overall length closely mirrors the dimensions used by the Inuit in their kayaks.

On our blog you can read various tests the kayak has undergone.
Specification and other info

Length 585 cm, beam 50 cm, volume 310 lt, weight 23 Kg – fibre glass lay-up but CS Canoe intend to manufacture kevlar-carbon and diolene versions. The kayak has a skeg and three hatches as standard. A fourth hatch on the deck forward can be included on request.
Other extras are a compass and bilge pump. The deck and safety lines are recessed ensuring clear decks. The Voyager can be tested wherever Mauro Ferro is participating and during the next summer sea kayuak trip with Tatiana Cappucci around the Greek island of Lesbo!

<![if !vml]><![endif]>
Thanks to Albert Gambina, we finally have a Newsletter written in English
home

www.tatiyak.it - tatiyak.blogspot.com - tatiyak@tatianacappucci.it
Tatiyak a.s.d. - Via Giovanni Verga 53 - 20025 Legnano (MI) - C.F. e P.I. 06558570963 - © 2014 MF
---