June 2016 Special Newsletter
<![if !vml]>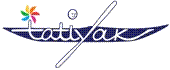 <![endif]>
<![if !vml]>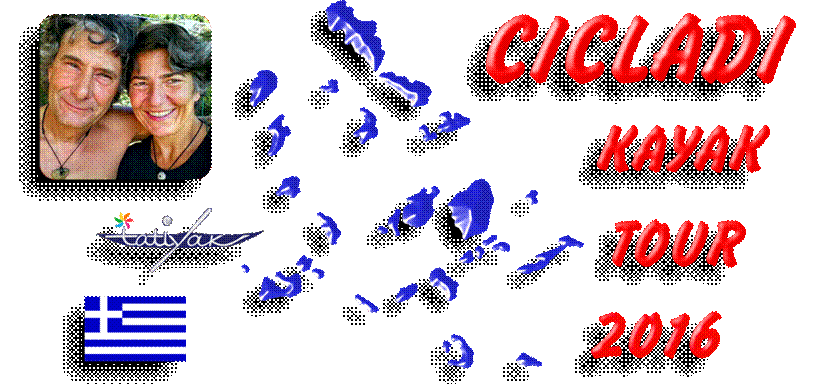 <![endif]>
The voyage
To celebrate Mauro's well earned retirement we've chosen to go on a longish trip!
Paddling our kayaks, of course: we leave on 18 June, with the ferry scheduled
from Ancona on the 20th and… we don't have a return ticket! We'll be going to the Cyclades Islands in Greece! Our plan is to do all the crossings between each island, circumnavigating each one in turn. If the Meletemi allows us, we'll paddle southward from Athens until Cape Sounion and then explore the western Cyclades, from Makronissi to the tiny Anafi. From here we'll head north via the eastern Cyclades stopping at Amorgos, the little Cyclades and perhaps some tiny island off the beaten track for tourists… We should be back (perhaps) by mid-November in time for the courses planned in Sardinia.
It will be a summer travelling by sea kayak, a new honeymoon for Mauro and Tatiana.

<![if !vml]><![endif]>
<![if !vml]><![endif]>

The two Voyagers
Just like our last two summer voyages to Lesbos in 2014 and Sicily in 2015,
for the expedition to the Cyclades we have chosen to paddle our Voyagers,
the kayak designed and built by Mauro in collaboration with CS Canoe.

It's undergone a slow but steady evolution resulting from more than 5000 km paddled in all sort of seas and conditions and now ready to return to the Aegean Sea…
Stability, tracking and carrying capacity make this a kayak well suited
for the kind of paddling we've got planned for the Cyclades.
The Voyager will return surely well tested and seasoned by a voyage of about 3000 km!
The Ciclades Kayak Tour 2016 Blog

The Cyclades Kayak Tour 2016 is also a blog: the blog of our trip to the Cyclades Islands of Greece. There's more than 30 islands, some are well know whilst others are uninhabited, all of an incredible beauty. We've already started the blog, preparations for the voyage, identifying landing spots, consulting the pilot books, equipment required, the Meletemi… We'll continue to post every two to three days with photos and stories from the Cyclades sharing our experiences with those like-minded kayakers who'd like to follow us.
We've got an open mind not only to unexpected events but also to sea kayak friends:
if you'd like to join us on some island even for a few days or even weeks, then
book a flight and contact one of the kayak-hiring places of the Cyclades.
They seem small enclaves of peace and quiet, just around the corner: ella, ella!

<![if !vml]><![endif]>
"For centuries the kayak was vital for the Inuit people to move from one place to another as well as to hunt, allowing them to survive and live in an inhospitable climate.
Without any doubt it is clear that, despite its small size and if paddled with a bit of skill and common sense,
it has excellent sea-keeping qualities that are unimaginable when compared to larger craft…
We don't need the kayak to hunt any more and what remains, therefore, is its recreational use that allows us to wander from one place to another...
It is this aspect - that of the minimalist explorer, self-sufficient and tuned to the nature around – that compels us in choosing the kayak for our peregrinations…"
(from Mauro Ferro's message at the beginning of each voyage blog)
Thanks to Albert Gambina, we finally have a Newsletter written in English.
home

www.tatiyak.it - tatiyak.blogspot.com - tatiyak@tatianacappucci.it
Tatiyak a.s.d. - Via Giovanni Verga 53 - 20025 Legnano (MI) - C.F. e P.I. 06558570963 - © 2012 MF
---